Top feed injectors
# Compact 33,6mm
# Standard 48,65mm
# Long 60,65mm
This is measured between the o-rings.
Injectors can have two different spray nozzle lengths.
# Standard 11mm
# Extended 24mm
These are measured above the lower o-ring down to the end of the tip.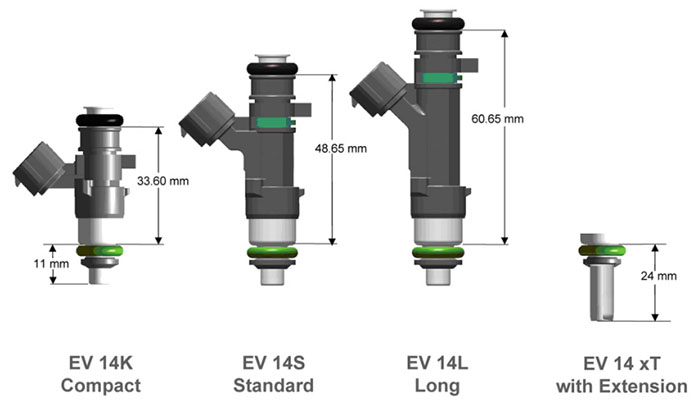 14mm or 11mm o-rings?
Aftermarket injectors use 14mm top o-rings in most cases. If they use 11mm it is because the manufacturer use it on their original fuel rail. The fuel rail can then be changed to fit 14mm injectors. Almost every aftermarket fuel rail is adapted for 14mm injector o-rings. If not the goal is to make a bolt ion fuel rail wich have 11mm o-ring injectors as standard.
Injector adapters
If your desired injector does not come in the right length to fit your application you use adapters to make it fit.
Every injector have information on what adapter to use on their product page.
Need more information?

Ask us through the form below and we get back to you.
OR
Browse more fuel system information in the menu further down.