QSP Overall black EN531
QSP

---
Reviews
Help others choose right. Be the first to write a review!
Write a review
QSP Overall Black EN531
EN531 Certified black race suit from QSP that is suitable for bank driving and trackdays for FIA classification are not needed. An affordable alternative to the more expensive FIA ​​approved equipment
Enter your size when ordering, the following is available: 50 - 52 - 54 - 56 - 58 - 60 - 62 - 64 - 66
Size guide can be found in the second picture
This overall is flameproof and well suited for trackdays and hobby driving.
EN531 - EN 11612
The intended area of ​​use for garments verified according to EN ISO 11612 is all types of environments where there is a risk of being exposed to open flame, molten metal or extreme heat.
To meet the standard, protective clothing must at least cover the body, neck, arms and legs. However, additional equipment such as head protection, hoods, aprons, leggings, arm guards or gloves can also be verified and certified according to EN ISO 11612.
The standard sets most specific requirements for construction and design to minimize the risk of burns.
Properties that are controlled in the standard include;
- Resistance to heat
- Flame retardant properties
- Breaking strength / Tear strength
- Seam strength
- Water resistance - Selectable requirement < br /> - Protection against convection heat
- Protection against radiant heat
- Protection against splashes of molten aluminum
- Protection against splashes of molten iron
- Protection against contact heat
NOTE! The overall has no FIA classification, so it is not approved for use in competition contexts in drifting, rally, folk race, time attack etc. where FIA ​​classification is required.
QSP Products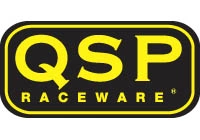 QSP is a Dutch company and have a wide range of racing steering wheels, sports seats, steering wheel hubs, belts, switches, protective clothing etc. Many products are also FIA approved through QSP.
Seat bracket - Rear view mirror - Tow hook - Oil drain plug - Steering wheel - Harness - Switches - Roll cage padding - Racing seat - Snap off / spacers
Be first to write a review about this product!
Your review:
To send a review, you must be logged in.